Second-User Equipment
Please phone or call in for our latest selection of second hand equipment & prices.
To purchase any item from our Second Hand section, please phone to confirm availability and payment options.
(all photos are of similar equipment unless stated otherwise)
---
---
Amateur
SOLD

TS-2000E All Mode Multi Band Transceiver
As new condition, complete with all manuals and box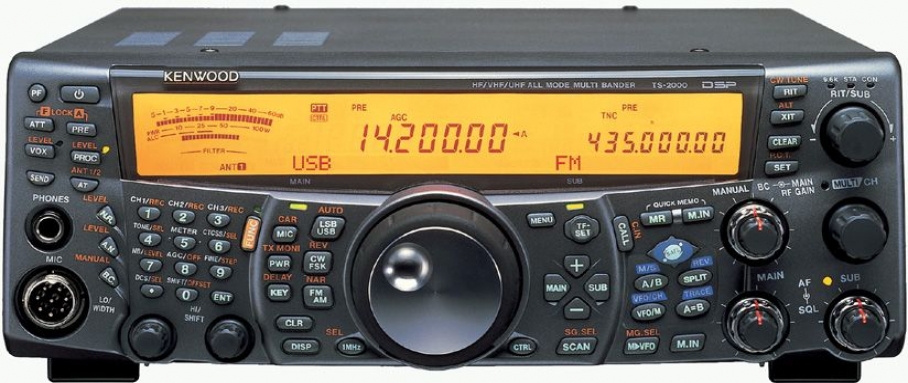 Frequency: 30kHz-60MHz, 142-152MHz, 420-450

RF Output: HF/50/144MHz 100W, 440MHz 50W, 1200MHz 10W

Modes: SSB, CW, FSK, FM & AM

Simultaneous reception on two bands possible

Independent sub-band 118-174MHz, 220-512MHz (FM/AM only)

Built-in automatic ATU (HF/50MHz) with preset memory

World's first HF backlit front key panel

Autotracking satellite functions (cross-mode compatible)

IF DSP for main-band use

AF DSP for sub-bands

Combination of Digital IF filters & IF DSP slope tuning

Digital IF AGC

IF Auto-Notch function

Manual Notch for single wave

AF beat canceller

Choice of Noise Reduction - NR1 for SSB, NR2 (SPAC) for CW

CW Autotuning

DSP variable demodulation for SSB/CW/FSK/AM

Built-in TNC (1200/9600bps) information displayed on LCD

Electronic keyer system

Kenwood Sky Command System (KSS) II Transporter built-in

Size 270 x 96 x 317mm
SOLD S/H Price: £975.00 SOLD
(library photo of item/s for sale)
---
Amateur
Yaesu FC-20 HF/50 Automatic Antenna Tuner
The Yaesu FC-20 External Automatic Tuner is designed for the FT-100, FT-100/D and for the FT-847 operating on all HF ham bands plus 6 meters. It is ideal for tuning out minor SWR variations in your antenna system present at the radio end of your coax. Utilizing fixed inductances and variable capacitors controlled by precision stepper motors, the FC-20 can accommodate SWRs of up to 3:1 on HF and up to 2:1 on 50 MHz. The FC-20 also provides 100 memories for tuning data, so you will instantly be ready to transmit on your favourite frequencies and it includes a convenient Auto-Start feature in case the antenna system impedance suddenly changes.
Specifications:
Coverage: 1.8 - 54 MHz Amateur Bands
Power Rating: 150W PEP
Memories: 100
Tuning Time: <30 Seconds
Antenna Matching Impedance: 17 to 150 Ohms


S/H Price: £150.00
(library photo of item/s for sale)
---
Amateur
SOLD
Yaesu FT-290R
2m Multimode Transceiver

(library photo of item/s for sale)
Frequency range:
144-146 MHz (Europe)
144-148 MHz (USA)
Mode:
FM/SSB/CW
RF Power output:
Hi: 2.5 W
Lo: 0.5 W
Voltage:
8.5-15.2 VDC
Current drain:
RX: 70 mA
TX: Max 800 mA
Impedance:
50 ohms, SO-239
Dimensions (W*H*D):
150*58*195 mm
Weight:
1.3 Kg (without batteries)
Memories:
10 memories
SOLD S/H Price: £125.00 SOLD
---
---
---
ALL Second hand Equipment Fully Serviced & Guaranteed For 3 Months from date of purchase.
---